Mentorship Advance
Course level: Intermediate

Share:
Description
The Mentorship Program consists of 14 lectures that covered all topics related to Halal investment in the share market. You can get knowledge from zero to advance level In Sha Allah.
Note- The viewer needs to go through lecture -1 to lecture-14 as given below for more understanding
What Will I Learn?
- How to earn Passive halal income from Stock Market
- Learn from Zero to Advance level
- Introduction of Halal Investment.
- Basics of Share Market.
- Fundamental Analysis of stocks.
- How to select Multibagger stocks.
Introduction of Halal Investment
?
How can earn halal income from the share market Basics of investment Myths of share market
Introduction of Mentorship Program
?
Discussed what we will learn in this program. Basics of share market. Principles of Shariah compliance. Equity research analysis. what are the tools we used to identify the growth stocks.
Fundamentals of Shariah Investment
?
Discussed shariah principles. Principles of partnership like Musharka and Mudarba. What is Sukuk? Screening of Business
Introduction of Share Market
?
Discussed basics of the share market and terms like share, exchange, BSE- Sensex, NSE-Nifty. How can buy and sell and what is the requirement to do business in stock markets. About Demat account and trading platform.
How to Analyze the Stocks
?
Discussed different tools to analyze the stocks with minimum time. Step by step process to see the data and its interpretation to know about the business.
A Case-Study of Step by Step to Analyze the Stocks
?
We choose one company as a case study and demonstrate step by step process to analyze the stocks. so that you can see the practical approach to analyzing.
Management Analysis & Corporate Governance
?
How to analyze the management efficiency, integrity, and trust. How to check past records of management and its intention regarding business, employees.
How to Read Annual Reports
?
Importance of annual reports and what are parameters to look against the companies. Where you find the annual reports and quarters reports.
Understanding of Financial Statements
?
Learn many technical terms and their interpretation like OPM, ROCE, ROE, Sales growths, cash equivalent, equity, debt, borrowing, and many more.
How to Read the Balance Sheet
?
Learn about the balance sheet data interpretation and what is the important point to look at in the balance sheet.
Understanding the Cash Flow
?
What are the cash flow and its significance. Types of cash flow. Know about operating cash flow with different examples.
What is Mutual Funds
?
Learn about mutual funds and how many funds are halal in India. There are some technical terms like Regular plan, direct plant, growth, and dividend. which one is best for investment.
How to do Quick Analysis of Stocks
?
With the help of different tools and techniques, we can analyze the stocks quickly. What are the parameters that need to check and how to check? There are free tools available to analyze with minimum effort.
How to Find Multi baggers Stocks
?
We explain step by step process to find the multi-baggers stocks. what are the parameters that need to check?
About the instructor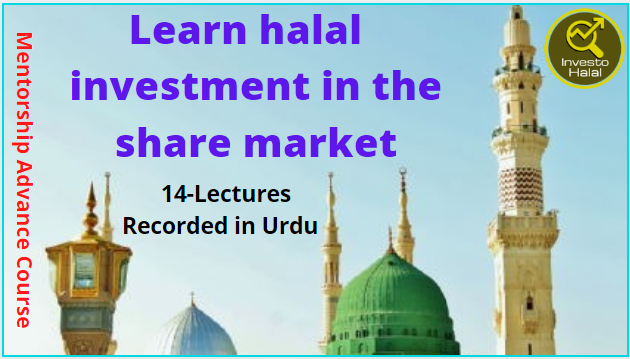 Material Includes
Pdf documents
Exell sheets
Target Audience
Student, Businessman, Employee, Home wife,Teacher. Those who want to earn halal income.